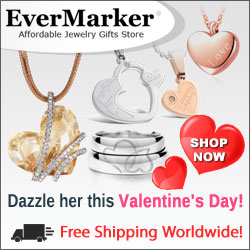 EverMarker affiliate program available at Shareasale!
Join the EverMarker affiliate program! EverMarker is a global retailer of women's fashion jewelry and accessories. You'll be promoting the latest fashion rings, necklaces, bracelets, earrings, and accessories.
Trisha Fawver is managing the program. Reach out to her with any questions you have. We're here to help you succeed!
Earn 15% commission on each purchase.
90-day cookie duration – get the credit you deserve.
Product datafeed coming soon!
Deals available via the SAS Deals & Coupons Database, For Me To Coupon, and iCodes US.
Extensive keyword list available for PPC campaigns.
Monthly newsletter – stay informed of all the latest promotions.
Affiliate Information Center – a one stop shop for affiliate information.
Dedicated, professional Partner Program Management by Snow Consulting.
You can join right now at Shareasale!
JOIN NOW AT SHAREASALE
If you have already joined the ShareaSale network, simply log in and add EverMarker to your existing account.
If you are not in the ShareaSale network, you can sign up through the EverMarker application.
Share