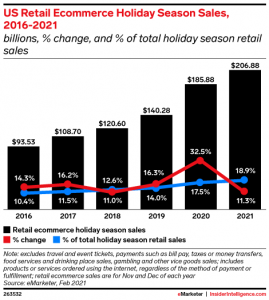 It's showtime. Q4 is here and the online holiday shopping season is about to kick into high gear.
There are definitely a lot of unknowns for the fourth quarter. An uptick in COVID cases from the new variant could cause closures or restrictions, lingering supply chain and shipping issues, a labor shortage, and the rising prices of goods – will all be big factors for Q4.
Despite the economic uncertainty, the forecasts for the early outlook for the 2021 holiday season are solid.
eMarketer is predicting that total 2021 US holiday retail sales will rise 2.7% to $1.093 trillion, while the season's ecommerce sales grow 11.3% to $206.88 billion. Ecommerce is expected to account for a record 18.9% of total holiday season retail sales.
The National Retail Federation predicts that retail sales for all of 2021 will surpass the $4.4 trillion mark – an increase of at least 10% year-over-year. Online sales are also going to surge, with an 18% year-over-year increase. By year's end, ecommerce is expected to account for at least $1 trillion of total retail sales.
Last year, COVID-19 changed people's holiday shopping habits and behaviors which resulted in the biggest online shopping season ever. That set the tone for this season and most industry watchers predict that online consumers will expect more than discount offers and free shipping.
Availability and Shipping
However, product availability is top-of-mind for consumers this holiday season, with supply chain strain remaining an issue around the globe. Manufacturing shutdowns in Asia in early 2020 set off a ripple effect throughout the industry as raw materials became scarce and some manufacturing stopped. Factories continue to be at risk of closing and many retailers are desperately seeking alternative plans to produce or source merchandise.
The challenges don't stop once the product leaves the factory floor. The global shipping process is being slowed not just by delays, but also by steep prices, which are likely to be passed on to the consumers.
This is expected to drive consumers online earlier than usual in the season to find the products they want and ensure they are delivered on time or available for in-store or curbside pickup.
Some predict that means that online shopping will be more spread out over the period from September to December, rather than concentrated in a few of the traditional landmark holiday shopping days – like Black Friday and Cyber Monday.
It's hard to know exactly how this will shake out, but the best way to successfully navigate the holiday and Q4 shopping season is to start with a solid marketing strategy and to begin planning now, if you haven't already started. Creating a detailed schedule of all marketing initiatives, tests, promotions, budgets, and 2021 competitive trends can make the difference between year-over-year growth or flat (or even declining) performance.