"Don't Go Bacon My Picks" Won the Week Hands Down!
Wow what a great week of football! The Green Bay Packers put a pretty good beating on the Minnesota Vikings with a score of 42-10.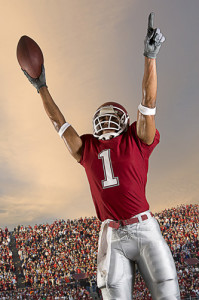 The San Diego Chargers played great in their game against the New York Jets; the Chargers ending up beating the Jets 31-0.
I think the biggest upset of the day went to the Denver Broncos for the huge win over the Arizona Cardinals. The Cardinals put up a great fight but ended up losing 41-20.
And Lessie, being the Saints fan that she is, wouldn't let me go without mentioning the sudden-death overtime win of the Saints over the Buccaneers, after losing key Tight End Jimmy Graham early in the first half to a shoulder sprain.  The game was much tighter than it should have been, seeing as the Bucs answered almost every Saints scoring play throughout the game.  The final score ended up 31 – 37 Saints.
The top three teams for Week 5:
Team: Don't Go Bacon My Picks (M. Coley) with 13 points WOW!
Team: Buffalo Bills Rock (J. LaBelle) with 11 points
Team: Let it Snow (K. Strawbridge) with 11 points
Good luck with your picks this coming week! Let's get this leaderboard stabilized!


This Week's Prize Sponsors:
And Many Thanks to our Grand Prize Sponsors!
Share