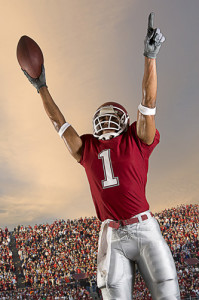 It was another interesting week in the NFL. There were brutal team performances and some stellar performances. Some coming from unexpected players. My St. Louis Rams proved yet again they are the true under-achievers, losing 34-7 to the cross-state rival Kansas City Chiefs. The New York Jets continue their dismal play and the QB controversy that everyone thought would eventually happened. Unfortunately, it didn't matter who played. After three interceptions in the first quarter, Geno Smith was pulled in favor of Michael Vick. Vick came in and threw one interception, was sacked four times and fumbled on two occasions. Bills beat the Jets 43-23. The Bears were embarrassed by Tom Brady and the Patriots 51-23, The Texans rolled over the Titans 30-16 and the Cardinals held on for a 24-20 win against the Eagles. The Arizona Cardinals now sit at 6-1, while the Eagles drop to 5-2.
Across the pond in London, the Detroit Lions got off to a slow start and fell behind 21-0 to the Atlanta Falcons. However, in the second half it was a completely different team. In the waning seconds of regulation time, kicker Matt Prater missed his chance at winning the game for his team, but was bailed out as a delay of game penalty was called. He didn't disappoint on his second chance. Lions win 22-21.
Sunday afternoon featured one of the best career performances from Steelers QB Ben Roethlisberger. Against a Colts defense that has played quite well this season. Ben threw for a career high 522 yards and 6 TD's en route to a 51-34 shootout win. He led all fantasy QB's this week. Sunday Night primetime brought the best out of the New Orleans Saints. They finally came to play and defeated the Green Bay Packers 44-23 behind 311 yards passing and 3 TD's from Drew Brees.
Monday night had the upstart Dallas Cowboys, sitting with a record of 6-1, hosting their division rivals the Washington Redskins who had a record of 2-5. It was a thriller featuring for the most part two backup quarterbacks in Colt McCoy (Redskins) and Brandon Wheeden (Cowboys) as Romo was injured in the second half. Oddly enough, both these players were on the Cleveland Browns the past couple of seasons. The game went to overtime locked at 17-17. McCoy led a final drive that turned into a 40 yard game-winning field goal by kicker Kai Forbath. Cowboys running back Demarco Murray extended his league record by rushing for over 100 yards in 8 straight games.
In our Snow Consulting Football Pool, the usual candidates earn weekly honors. Not sure how they do it! Team Wojo's Locks of the Week! easily won with 12 picks on the week. Team Let It Snow finished with 10 wins, while BigAlRap held off eight others who finished with 9 wins, but won by way of tiebreaker. Overall standings has team Let It Snow sitting in first with 74, Royals Win in 2014 in 2nd with 67, Wojo's Locks of the Week! in 3rd with 66, ACE and Heart of a Philanthropist tied for 4th with 64.
How did you do this week? Where do you sit in the standings?
This Week's Prizes:
And the Grand Prizes:
Share