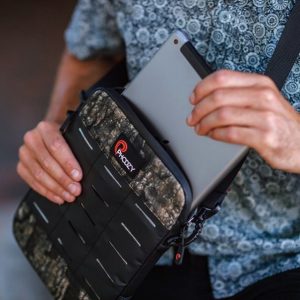 Snow Consulting is excited to introduce a brand new product from one of our New Merchants! PHOOZY just released their all new Thermal Capsule for iPad and Macbook, the one and only laptop and tablet sleeve to offer five elements of protection.
Utilizing spacesuit technology, PHOOZY Thermal Capsules protect devices from drops, overheating in the sun, extend battery life in cold temps, keep rain and water out with fully water-resistant construction, and even float in water if the unthinkable happens.
Best known for their thermal capsules to protect smart phones of all makes and models, PHOOZY has now extended their electronic device protection to tablets and laptops!
Designed for form and function, no detail was considered too small. Special features now included in the new tablet thermal capsule include:
5-layers of protection of water-resistant, heat-resistant and cold-resistant materials including the patent-pending Chromium Thermal Barrier(™)
UltraCush-lined Capsules and the integrated Apple Pencil pocket create a safe haven for devices and stylus
HydroGuard(™) two-way zipper with pulls
Laser-cut molle connection panel to attach PHOOZY products and other accessories
Multi-carry option to carry the Capsule in horizontal or vertical orientation with the multi-function, ergonomic shoulder strap
Detachable shoulder strap to easily slide the Capsule into a backpack
Even the tactile grip logo patch provides a convenient, easy way to quickly grab the Capsule out of a pack in the airport security line
The new Capsules are available in two sizes:
iPad Capsule 11 inch – For iPad (9.7), iPad Air, iPad Pro (11 inch) and other tablets up to 11 inches.
iPad/MacBook Capsule 13 inch – For iPad Pro (12.9), MacBook Air, MacBook Pro (13 inch) and other laptops up to 13 inches.
You can grab your affiliate links for these new products in ShareAsale – Id's 1395943 and 1395940.
If you are not a PHOOZY affiliate yet you can join the program here -> http://www.shareasale.com/join/75746