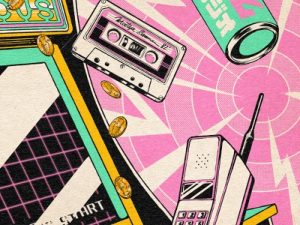 Everything old is new again. People love nostalgia and the warm feelings it evokes – taking them back to a special time and place in their lives. It's like a warm hug from the past. And one of the best things about reviving the old is putting a modern twist on it. Call it throwback or retro with a new spin.
Here are some merchants with products and services that pay homage to old memories by evoking the past, but have been updated for today's world to help create new experiences.
Remember when RV's were mostly for retired couples or family vacations. RVs represented freedom to hit the open road. They still do, but now these luxury motor homes are for anyone and everyone that wants to experience and explore but still loves all the creature comforts of home. This is a cool way to travel because RVshare makes the whole process simple, easy, fun, and totally COVID safe!  And it's so economical – on average RVShare renters save 57% on vacation costs compared to other forms of travel. And in most cases RVshare can deliver to a specific location or park, so the home-away-from-home will be ready and waiting on arrival. Plus, your audience can bring their pets.
Riding a Sixthreezero bike brings back that feeling of being a kid. They want to help make your audience smile by experiencing the pure joy of riding a Sixthreezero custom-built cruiser bike. With a super-chill, beachy, retro vibe, these beauties have a nostalgic yet stylish look but are so comfortable and functional that they are perfect for every day. Sixthreezero also has hybrid bikes that combine all the best features of a road bike and a mountain bike.
Let's face it, most of us grew up with a set of encyclopedias in the house. But now that seems so old school. Thank you, world wide web! Britannica Kids is the modern, online version of encyclopedias designed specifically for children. With a 250-year legacy of learning and curiosity, Britannica Kids offers safe, age-appropriate content that keeps kids focused while broadening their horizons. Britannica Kids strives to nourish the thirst for knowledge and incredible facts for the youngest of minds as well the entire family.
Ditch the red plastic cups and mason jars. Drink like a grown-up and channel your inner Don Draper. An evening or weekend cocktail (make mine a hi-ball or Manhattan) just seems so much cooler when done properly in stylish glassware. JoyJolt has high-quality, contemporary glassware, combining modern style with traditional, luxury craftsmanship. Cheers!
Mid-century modern is all the rage and Smart Furniture specializes in both residential and office furniture and home decor with mid-century modern designs. Smart Furniture has the perfect pieces to reflect every unique personality with over 180 brands including Herman Miller, Steelcase, Stressless, Knoll, Gus, Vitra, Blue Dot, and BDI.
Back in the '50s, '60s, and '70s, little girls clamored for Mary Jane-style shoes. These were mostly black patent leather flats with a strap – think Easter outfits and Sunday services. Mary Janes remained a staple for girls for decades, and now Fuchsia has a grown-up, modern version of this classic. Fuchsia's Mary Janes are handcrafted, beautiful, and intricate. These elegant yet comfortable flats are flexible, durable and a work of art.
Help your audience kick their personal style up a notch with retro-styled glasses or sunglasses. Cat eyes? Yes, Please. Chic Jackie-O shades? Check.ICU Eyewear is a globally recognized leader in reading eyewear, blue light glasses, and sunglasses and their designs come in a variety of styles from classic, retro, and trendy, and more at super-affordable prices.
Sports fans always have a favorite player from their youth. And Ultimate Autographs can make owning a piece of history from a childhood sports hero a reality. Ultimate Autographs specializes in signed sports memorabilia including jerseys, helmets, baseballs, footballs, and many more special collector items from athletes in the NFL, MLB, NHL, and NBA. Every item includes a certificate of authenticity.