At Snow Consulting we always want to make sure we're doing our part to help affiliates of all levels navigate their way through what the affiliate marketing maze.  All too often because many of us have years of experience in this industry we forget that not everyone knows the little things that we learned in our earlier days.   This goes across all industries though right?  Sometimes we need to go back to our roots to not only refresh our minds but also provide you with great knowledge that you might need in your journey as well.
With that in mind we recently asked our network reps what they think the best tools are.  Interesting to see the tools that each rep noted and also how each approached the question.
Top 3 Affiliate Tools From Pepperjam by Rebecca Baran
A picture is worth a thousand … sales!  We get it. So we've established an exclusive partnership with Curalate, the leading visual commerce platform, enabling publishers to use imagery to better engage their audiences, drive traffic to advertisers, and ultimately create an entirely new commerce source. Publishers can make their Instagram images instantly shoppable with technology powered by Curalate's Like2Buy. And Curalate's Reveal Solution enables publishers to link images on their blogs to advertiser product pages. The easy-to-deploy system works for publishers of all sizes.
Here's a link to their instructional video if you want to view how to use it.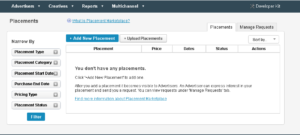 Maybe it is just us, but do you sometimes find it difficult to reach advertisers with placement opportunities that you have available? We've heard it from our Advertisers time and time again that they (1) don't even have access to them (2) don't have time to sort through all the media kits and (3) don't know who to contact or how to go about purchasing. We thought this was a problem that was worth solving! The Pepperjam Placement Marketplace is just that – a market place where publishers can upload paid placements they have available for either purchase or a commission increase. Advertisers can then review and book placements through the interface and contact the publisher with any questions.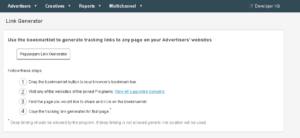 We realize that one of the most effective affiliate strategies is to utilize deep-links. The Pepperjam Link Generator makes creating a deep-link quick and easy. A browser bookmarklet enables you to create links to any pages on participating retailers' sites without logging in to the dashboard itself. Once the Pepperjam Link Generator bookmarklet is placed on your browser, simply visit the brand's desired product or category page, click the bookmarklet and Bam! Affiliate link then and there!  It really couldn't get any easier.
Top 3 Affiliate Tools From Commission Junction by Sarah Robison
CJ provides Publishers with tools that make promoting simple, efficient and fun!  Here are our top three -Advertisers and Placements and Content, oh my!
The Publisher Dashboard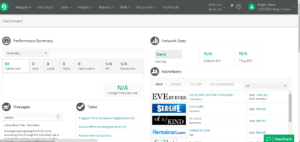 The CJ Account Manager makes partnerships easy and effective.  Home is where the heart is – Upon signing into the account, the Dashboard gives an immediate view of joined, new, recommended and top 10 Advertisers.  The Recommended Advertisers section is especially helpful because it is based on current performance and successes with other programs to find the best fit for an effective partnership for you.  You also get a quick breakdown of your Performance, Network Stats, any pending Tasks and Messages so you can stay connected and engaged at all times!
Our Advertisers tab is an excellent tool to find and create new, as well as manage existing, relationships.  You can use various types of filters such as Advertiser Category, Language, Currency and others when looking for new partners to find the best fit.  There are over 20 Advertiser Categories along with over 40 sub-categories to choose from and filter.  This tab can also be used to easily search for exciting offers and products from your existing partners.
Within the Advertisers tab, you can also view Advertisers' profiles.  This is a fantastic way to see which programs you're interested in promoting.  You can find the Advertiser program details along with commission rates, program policies, cookie durations, descriptions and the Top 5 countries the program has the most success with.
Looking for an easy way to offer, book and receive payment for placements with your Advertisers?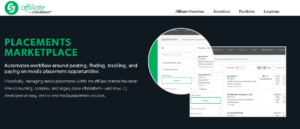 CJ has made this process extremely simple and efficient with our Placements Marketplace .  You can track upcoming placements and receive payment for all of your placements in the CJ Account Manager!  Simply upload your available opportunities into the Placements Marketplace for all, or exclusive, Advertisers to view.  These placements can then be booked and paid through this Marketplace, eliminating an out-of-network process and extra time needed for completion.  Not to mention, you can gain additional exposure since this is also where Advertisers can easily look for placement opportunities and view media kits and rate cards.  The Placements Marketplace is beneficial for both parties involved!
Passionate about content?  Love blogging?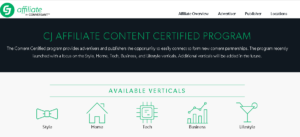 Through our Content Certified Network you will receive offers to join newly Certified Advertisers in the same vertical within the CJ Network.  Content Certified Publishers joined to Content Certified Advertisers enjoy the benefits of competitive payouts and the consistent introduction of new partnerships.  The recruitment work is done for you!
Not only does CJ introduce you to new Advertisers and new relationships on an ongoing basis in the Content Certified Program, but we have also created some great tools and solutions to make promoting easy!  Our Deep Link Generator is a fan favorite, especially for Content Publishers.  This is a great and easy way to create and imbed links in your content, sending your customers to the exact product you're raving about in your blog!
Top 3 Affiliate Tools From ShareASale by Tiffany Tse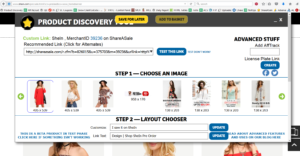 ShareASale's Bookmarklet tool is a neat way to create links on the fly, which has proven to be a huge timesaver for Affiliates. By installing this onto the browser through a simple drag and drop, Affiliates are now able to develop trackable product links or deep links straight from the Merchant's website. The Product Discovery Bookmarklet provides Affiliates with all the essential datafeed information such as product images, along with full customization built in for advanced users.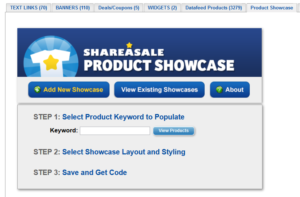 The Product Showcase is a dynamic banner that allows Affiliates to quickly highlight specific sub-sets of a retailer's product based on category or keyword. These can contain products from either a single or multiple Merchants. Additionally, they keep themselves up-to-date and will automatically rotate based on Merchant or keyword. It's an easy solution for Affiliates looking to advertise relevant brands and products in a fun and visual way!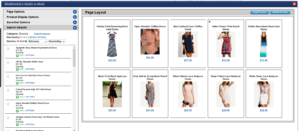 While the Make-A-Page is similar to the Product Showcase, it gives Affiliates way more control over what is featured. Affiliates can essentially build a custom table or a scrollable gallery of specific products based on keyword searches and can choose from a variety of product display options, allowing them to select what information would be most helpful to their audience – i.e. product description, SKU, price, manufacturer, etc. ShareASale provides all the code necessary for Affiliates to copy and paste everything straight to their website – easy peasy!
If you have any comments, ideas or suggestions on what you've read feel free to send them over to one of our team here at Snow Consulting by emailing snowteam@snow-consulting.com
Thanks for your time,

Randy Norton
rnorton@snow-consulting.com
Skype: RandyNorton99