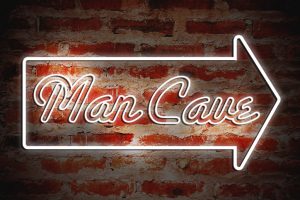 Guys know that there's something special about having their own dedicated space. Sure, they're often masters of the garage, the backyard, or a basement workshop. But having a man cave is the ultimate domain.
And women love man caves. Seriously!! When men have their own space, it's less likely that their precious Metallica poster is hanging in the bedroom and their bobblehead collection isn't cluttering up the fireplace mantle.
Creating a personalized man cave is an evolutionary process, So whether your audience is starting from scratch or just looking to update their current space, we've got them covered.
The Man Cave Musts
Sports fans will love decorating their man cave with Ultimate Autographs' 100 authenticated, signed sports memorabilia including jerseys, helmets, baseballs, and footballs from athletes in the NFL, MLB, NHL, and NBA. 
Cuddle Clones' plush, stuffed animal replicas of a guy's pet are the perfect man cave companion. 
If there are going to be adult beverages, they should be enjoyed like an adult. JoyJolt has high-quality, contemporary glassware, combining modern style with traditional, luxury craftsmanship. 
Or maybe the man cave can be used to chill and have a healthy beverage. EkönTea's mission is to provide men the option of high-quality, pure, loose leaf teas blended to cater to their specific lifestyles and needs. With a wide variety of award-winning blends to choose from, Ekön Tea has the perfect tea for every man.
Audeze's high-end headphones are cutting edge and allow for endless hours of gaming or rocking out at high volumes in the man cave while still being courteous to those in the rest of the house. 
Every man cave needs tech – whether it's a dedicated gaming laptop or a really big monitor. Discount Electronics is THE place for used custom-built laptops, PCs, and monitors from major brands at up to 70% off retail prices. 
The man cave doesn't need to look like a 70's basement. Smart Furniture specializes in stylish, mid-century modern home furniture and decor to show off every guy's personality.
No man cave is complete without a beer fridge and a big-screen TV (or even two)! PriceWaiter saves shoppers money, time, and energy by negotiating better-than-Amazon deals with hundreds of authorized retailers on millions of new, brand-name products.
Protect the valuable man cave contents and monitor the perimeter of your house and property with DIY security solutions from Defender Cameras.