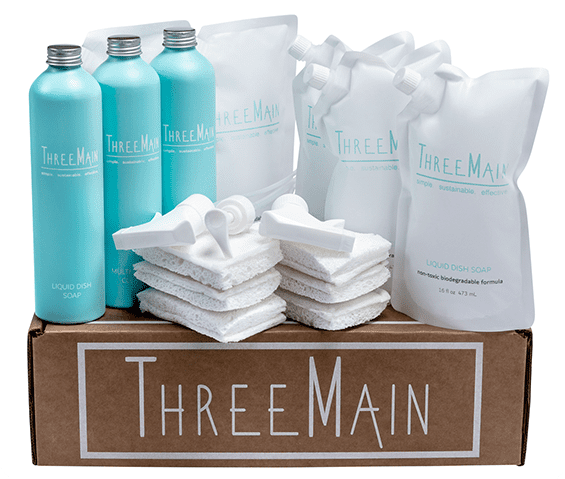 We are happy to announce the ThreeMainProducts.com Affiliate Program in ShareASale!
ThreeMain is the premier eco-friendly, sustainable household cleaning product line on a mission to protect our oceans by reducing household plastic consumption. The company is dramatically reducing the need for household plastic by delivering stylish, effective, and sustainable green cleaning products in reusable aluminum bottles. Established in 2017, the company is empowering consumers to make the switch to sustainable cleaning products with their non-toxic and sustainable line delivered every three months — straight to consumers.
ThreeMain's reusable aluminum bottles and recyclable refill pouches contains 80% less plastic than traditional household cleaners. ThreeMain is on a mission to combat the environmental effects of plastic, donating 3% of all sales to its non-profit partner The Rozalia Project, an organization committed to protecting and cleaning the oceans.
What makes ThreeMain unique?
ThreeMain uses reusable aluminum bottles
The refill pouches are recyclable
Every Blue Membership delivery includes a [biodegradable] pre-paid recycling envelope that can hold up to 8 empty refill pouches (including caps). Once you've filled the envelope with your empty refills, simply drop it into any USPS pick-up, and they'll do the rest!
ThreeMain donates 3% of all sales to Rozalia Project to clean and protect our oceans.
Social and corporate responsibility – minimum waste and maximum responsible product design.
To join in the ShareASale network, sign up through the ThreeMain application.
Contact our team with any questions you might have about this Affiliate Program: threemain@snow-consulting.com.