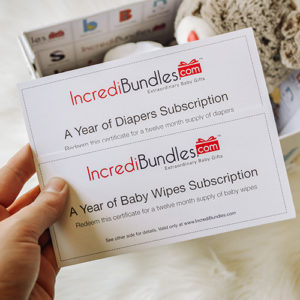 We are pleased to announce that IncrediBundles has selected Snow Consulting to manage their affiliate program.
IncrediBundles.com is the home of the bestselling Diapers + Wipes Subscription Gift. It's the innovative giftable Diapers + Wipes Subscription that allows the recipient to choose the brand and size diapers they want delivered straight to their door each month! Each subscription gift comes with a beautiful announcement package featuring a premium plush teddy bear nestled in an IncrediBundles.com reusable storage box. This adorable bear holds a certificate that announces your gift and features your recipient's unique activation code. Recipients get to choose from all the major brands each time they redeem – Pampers, Huggies, Luvs and more!
What Makes IncrediBundles Unique?
3, 6, 9 and 12 month Diapers + Wipes Subscription Gifts featuring the brands you love and trust the most.
Stylish presentation perfect for baby showers
Social and corporate responsibility – minimum waste and maximum responsible product design
To join in the ShareASale network, sign up through the IncrediBundles application.
Contact our team with any questions you might have about this Affiliate Program: Affiliates@IncrediBundles.com.