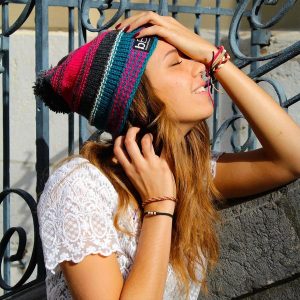 beyondBeanie was co-founded by Hector Alvarez and Paty Lucero in 2014. During a backpacking trip that Hector took to Bolivia to visit Paty, they both discovered the beauty in the rich and colorful textures of Bolivia. However, they also witnessed the harsh reality of severe poverty that existed as well.
Out of this awareness of both the beauty and the not-so-pretty aspects of Boliva beyondBeanie was born. Hector and Paty dedicated themselves to combining their expertise in business and design to create a fashion line to represent the colorful spirit of Bolivia that would tackle two key social components:
To create meaningful work for female artisans in a place that recognizes and respects them.
To provide meals, dental care, school supplies, and school uniforms to impoverished children.
beyondBeanie (bB) is a social clothing brand that combines fashion with solidarity to help change lives. To start off, every product sold helps a child in need. Examples:
When you buy a beanie, you give five meals
When you buy a bag, you give a set of school supplies
When you buy a bracelet, you help a child get dental care
In addition, every product is hand signed by the artisan who made it, whom clients can meet and greet at our site.
The beautiful quality of the products is thanks to the personal touch and creativity of a group of talented Bolivian female artisans in the areas of La Paz and Cochabamba. A unique aspect of bB is each item is special.
Carrying its artisan's hand signature enables her a sense of identity, confidence and self-worth – three aspects in which Paty experienced these women struggle with daily due to various circumstances.
Unique Customer Benefits: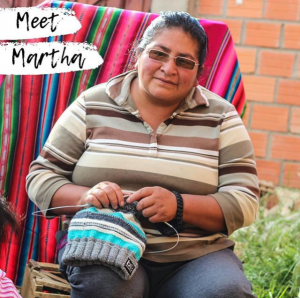 Every item purchased empowers artisans and helps children in need in Bolivia
Artisan quality beanies, bracelets, ponchos and more
100% Satisfaction Guarantee
PROGRAM DETAILS:
Commission: Up to 15% with performance incentives and special promotion opportunities
30-day cookie duration
Datafeed updated daily
Up to Date Deals in the SAS Deals Database and within FMTC.
Up to Date banners, coupons, deals – Help make your promotion much easier
Join the Snow Consulting Facebook Group to stay informed of new promotions from beyondBeanie
Join the beyondBeanie program on ShareASale here.
Contact our team with any questions you might have about this Affiliate Program: beyondBeanie@snow-consulting.com.