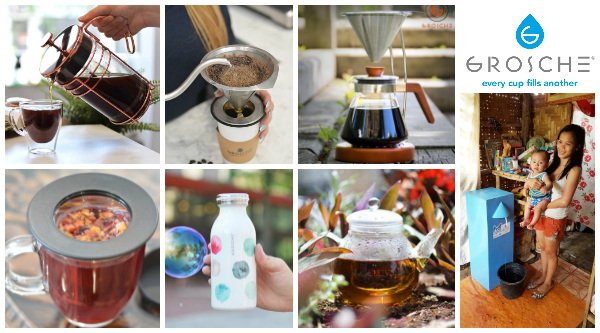 We are pleased to announce that Grosche International has selected Snow Consulting to manage their affiliate program.
Grosche was started in 2006 with visions of a social enterprise that could change the world. Every product Grosche sells funds their safe water project. It helps communities in need and makes hearts sing with joy. Together with you, the affiliates, and their customers, they are changing the world for the better. One cup at a time. It's a beautiful thing.
At Grosche, you'll find everything to make a great cup of coffee or tea, including the coffee and tea. Whether your readers are searching for the finest coffee beans, the tastiest blends of tea leaves, or just searching for their perfect water bottle, Grosche has something for them.
QUALITY YOU CAN EXPECT FROM GROSCHE:
High Quality Coffee Beans, Tea Leaves, and Drinkware
Wholesale quantities available
Free Shipping for Canada and US with minimum purchase
Worldwide Delivery Options may be available
Customer satisfaction is key! Generous return policy. If you don't love it, return it.
Excellent Customer Service
We are excited to bring you this fabulous merchant just in time for you to introduce them to your audience! There are so many items available at Grosche that would make perfect gifts!
To join in the ShareASale network, sign up through the Grosche Application
Contact our team with any questions you might have about this Affiliate Program: Grosche@snow-consulting.com