The Snow team is very pleased to introduce you to our new client:
iMagnetMount.com!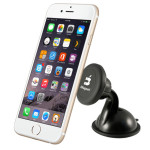 iMagnet Mount is a sleek car phone accessory that allows you to pop your phone onto your dash effortlessly without cradles or fiddling complex plastic machinery. It is great for travelers who rent cars and need their phone handy for GPS, take that conference call, or look up the nearest mall. Small enough to carry in your carry-on and slick enough to place it in any car. You can stop reading your GPS with one less hand on the steering wheel. It is the first magnetic car phone mount that fits any phone, from a small Nokia to a large Galaxy Note 3.
Great for someone who commutes and can multitask safely while driving, or just needs a phone stand at work. Bought by 100,000 happy drivers and ranked Top 10 on Amazon and seen on CNET, MacWorld, and iPhone Life Magazine.
Here is a great video showing how universal the iMagnetMount is! To see the whole video click below.


Click here to Watch
Tanya Smith is managing the program. Reach out to her with any questions you have. We're here to help you succeed!
JOIN NOW AT SHAREASALE
If you have already joined the ShareASale network, simply log in and add iMagnetMount to your existing account.
If you are not in the ShareASale network, you can sign up through the iMagnetMount application.