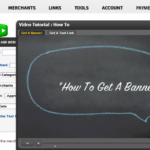 By Joe Sousa*
One of the first things you will need to know how to do as an affiliate of a merchant in Shareasale network is how to get links and banners for your website through the Shareasale.com interface. It is a very simple process once you have been approved for the merchant's program. Let me walk you through it (click on the images to see them bigger):
1. Log in to your Shareasale.com account – Just enter your user name and password.
2. At the top of the screen you will see a menu bar. Hover over the "Links" tab and in the drop down menu select "Get A Link / Banner"

3. A list of all your merchants should come up on the screen. You can either select your merchant or merchants from the "Specific Merchant" box and then hit the "Refresh Report to View Below" button on the right hand side of the screen or you can just find them on the list of merchants on your page and click "Get Links"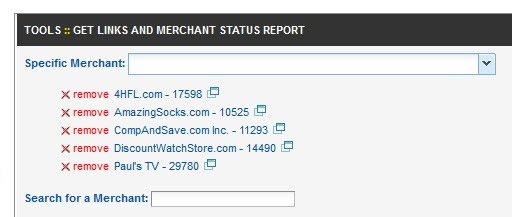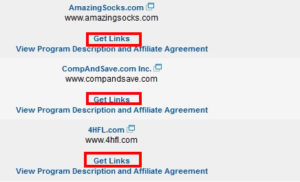 4. The next page will give you a list of text links and also a tab for the banners. Find the text link you want and click the "Get HTML Code" link on the right hand side of the page. That will bring up the HTML code you will need to copy and paste into your site. Just select the code (make sure you get it all), copy it, and then paste it into your site where you want it to appear.


For a banner the process is similar. Just select the "Banners" tab and click on the size banner you want. Then you can just copy and paste the HTML code into your site where you want the banner to appear:

That's it! Just 4 very simple steps and you can be on your way to earning a commission on every order that comes through your site. Make sure you don't make any modifications to the HTML code of the links unless you know what you are doing.
If you need further explanation you can also check out the video tutorial on the Shareasale site. When you are on your "Get a Link / Banner" page you should see a little green tab at the top left of the screen that says "Learn". Hover over that and it will slide out and say "Video Tutorial Available". Click on that and you will see some videos walking you through the process.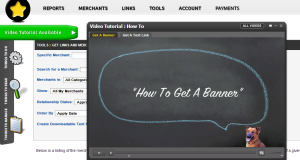 Of course if you have any questions you can always contact us! There's a contact form for each merchant on the Client's page and in the Information Center for that merchant. You'll also find complete contact info for every affiliate manager in the newsletters (also in the Information Center) Let us help you succeed! Get those links up and start making money today!
*This tutorial was originally created by Joe Sousa and published in a program Information Center for a specific merchant. I used his copy with very little change, but swapped out some of the images to include several merchants rather than just one. The instructions and helpful hints are all Joe's!
Share