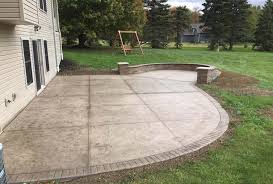 Warmer weather means getting outside and enjoying the sunshine or the moonlight. There's been a lot of indoor nesting and making home even homier. Now it's time to show your home's outdoor spaces the same attention. Deck out the deck. Party on the patio. Lounge on the lanai. Conference calls from the carport. Pimp out the pool area.
Our amazing roster of merchants can help create an outdoor oasis.
Smart Furniture – Save the foldable camp chairs for an actual camping trip and instead sit in style in your backyard. Contemporary outdoor chairs and tables, patio sets, planters, and more take your outdoor space to the next level of comfort and beauty. 
Office Designs – Working from home doesn't mean you have to be inside. It's time to think about creating a versatile outdoor workspace with chairs and tables specifically designed for the outside so you can take advantage of the beautiful weather. Office Designs also has bar carts that are patio-perfect for those team-building Zoom happy hour calls. So, Don Draper meets 2021.
Discount Electronics – Your desktop computer is fine for the home office, but having a custom-built laptop that can go poolside or on the deck is where it's at. Work where you want outside without breaking the bank with used custom-built laptops from major brands at up to 70% off retail prices. And since all laptops and computers ship the same or next business day, you can be soaking in vitamin D and doing pivot tables tomorrow. Win-win!
PriceWaiter (ShareASale) (CJ)  – Nothing tells the neighbors you're living large like having an outdoor fridge. Go full-size or compact. Either way, you'll be making fewer trips to the kitchen. PriceWaiter saves shoppers money by negotiating better-than-Amazon deals with hundreds of authorized retailers on millions of new, brand-name products and appliances. That leaves more money to fill the fridge with beer.
Maison Numen – Paper plates are so pedestrian. Create a unique and stunning tablescape for your al fresco dining with platters, drinkware, pitchers, and table linens that are all handcrafted by artisans who preserve their cultural identity by adapting it to contemporary life. And, you can admire your gorgeous table while lounging in one of their hammocks.
JoyJolt – One of the best parts of having a great outdoor space is inviting friends and family over to enjoy it with you. That often means mixing up cocktails, popping a bottle of bubbly or enjoying the perfect glass of wine. Sip in style with JoyJolt's high-quality, contemporary glassware that combines modern style with traditional, luxury craftsmanship. They also have beautiful insulated cups so you can enjoy your morning tea or coffee while watching the sun come up.