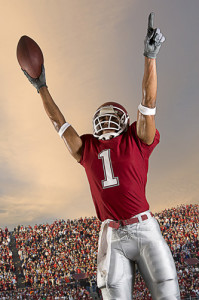 Seems like this football season has kept most of us on our toes.  The St. Louis Rams showed their stuff this weekend defeating the Raiders 52 to NOTHING.  That had to be a fun game for Rams fans everywhere.  My N.O. Saints showed that they CAN win on the road (if not at home) by defeating the Steelers 35-32.  Now, let's hope they can win at home next weekend against the Panthers.  And of course, the Packers showed the Patriots what they are all about, by coming out to an early lead and holding on to win 26-21.  How did you do in your picks?
And this week we have 3 winners in the Football Pick'em Pool:
Andre Colantuono  "is it hockey season yet?" with 12
Michael Coley "Don't Go Bacon My Picks" with 11
James Seligman  "SBXLVIII Enough Said" with 10
Congratulations to the winners!  It is fun to see who will win each week, will it be you next week?
This Week's Prize Sponsors:
And Many Thanks to our Grand Prize Sponsors!