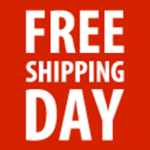 Free Shipping Day is Friday, December 16 this year. 
In 2015 Free Shipping Day pulled in over $845 million in ecommerce sales with nearly 1,000 participating stores. The event continues to be a media favorite, with mentions in the Wall Street Journal, New York Times, Los Angeles Times, Washington Post and other highly-visible outlets, including broadcast giants ABC, NBC, CBS and FOX.
Several of our merchants are participating in Free Shipping Day this year! Some even have special deals for customers and we have them all ready for you to promote! Click on a merchant below to join or find out more about their affiliate program.