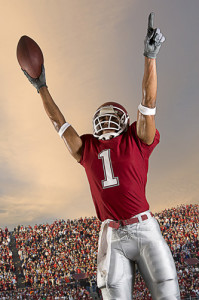 What a week in the NFL! The reining super bowl champion Seattle Seahawks won again in their victory against the Broncos with a score of 26-20.
The San Francisco 49ers  put up a fight against the Arizona Cardinals in what was a great game, the San Francisco 49ers ended up losing 23-14 with yet another win for the Arizona Cardinals putting them with the record of 3-0-0. But I think game of the week goes to the Indianapolis Colts for the beating they put on the Jacksonville Jaguars in a 44-17 win.
The Snow Football Pool had two new teams placing 1st and 3rd, with Team Hinkley repeating for a weekly prize. A big congratulations to this week's winners; all have been notified via email:

Tony Romo Rib Crushers with 13 points
TeamHinkley with 13 points
Ivory Tower with 12 points
This week's prizes were provided by these generous sponsors!

Grand Prize List:
Share