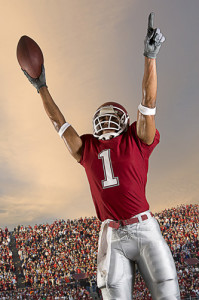 Final Week in the Pro-Football Pick'em Pool!
What a crazy season this has been in the NFL!  I can't believe the regular season is already over.  And seriously, who would have thought that Dallas would make the playoffs?  Well, I for one, did not.  This weekend, they pull out a win in the Wild Card Game.  WOWSA!
We had a lot of ups and downs this season, but all in all, it has been fun.  How did you do in the Pick'em Pool?  Did you have any secret method to choosing the teams?  It was shared that some people chose based on logic, I tried logic and that didn't work for me. I personally tried the eeny, meeny, miny, moe method and did well (sometimes).  Next season, I will be looking for new strategies.
Well, on that note, we have winners!
First up – our weekly winners for Week 17:
"Dawg's Picks" – David D – 1st for the week.
"The Goodie Clan" – Jen G – 2nd for the week.
Grand Prize Winners:
Our top ranking Grand Prize winner had a comment he wanted to share. Brad Stallings, team "Royals in 2014″ said to notice that "he didn't finish in the top 3 for a single week and still won!". So for next year: steady is the key….  Thank you, Paul's TV for this year's big screen TV Grand Prize!
Second place in the Grand Prize line-up is Kevin Strawbridge, team "Let it Snow". Thank you to Wine of the Month Club for the 6 month membership!
Third place in the ranking for the season's Grand Prizes is Kim Propp Belcheff, team "Heart of a Philanthropist". Thank you to DiscountWatchStore for the $150 Grand Prize gift certificate!
Fourth place in our Grand Prize List is Lance Shabatura, team "Roid Rage". Thank you to Hyperwear for the Hyper Vest Pro!
It's been a great season, with lots of surprises. Thank you to all for your participation and "See you next time!"
This Week's Prize Sponsors:

ThePerfumeSpot.com $25 Store Credits
And Many Thanks to our Grand Prize Sponsors!
Share