What an interesting week in the NFL. Who picked the Rams to beat the Seahawks? Well, they pulled off a 28 – 26 victory over the defending Super Bowl champs. We will have to see if they can defeat Seattle when they meet again December 28th.
And of course, being a Saints fan, I can't let it go without mention that they let another game slide on the road.  Looking for their first away win, the Saints blow a 13 point lead with only 3:38 left to go…losing to the Lions 24-23.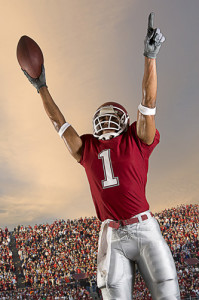 And kudos to Dallas for pulling out another win this weekend against Giants. Going into this season, I would not have predicted the success Dallas is having. And it is only made more exciting by watching DeMarco Murray. He broke Jim Brown's 56-year-old NFL record with his seventh straight 100-yard rushing game to start a season. That game ended up 31-21 Dallas. So, How did your picks work out?
This week's winners will be notified of their prizes via email:
Gary Ward and his team: wardo97 with 10 points
Kevin Strawbridge and his team: Let it Snow with 9 points
Joe Wojciechowski and his team: WoJo's Locks of the Week with 9 points.
This Week's Sponsored Prizes
Here's the Grand Prize list for the end of the season; Thank you to our generous sponsors!
Share