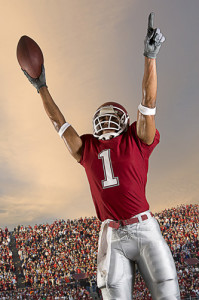 Congratulations to Dawgs Picks for Taking 1st Place in the Football Pool!
It's another case of "Any Given Sunday" in the NFL this week.  We had a BLOWOUT game between Green Bay and Chicago this week.  The Packers looked great as they smoked the Bears 55 – 14.  That wasn't the only lopsided game we saw this week.  The Rams looked great coming out against the Cardinals, but how quickly did the tides turn when the Cardinals scored 21 unanswered points in the 4th quarter?  The final there was 31 Cardinals – 14 Rams.
And for fellow Saints fans, how about that last minute Hail Mary pass thrown by Brees with only seconds remaining against the 49ers?  The pass was caught by Jimmy Graham (and should have ended the game), but was called back for Offensive Pass Interference.   The question around was, "Did Jimmy actually push off?  Should Offensive Pass Interference been called?"  In my opinion, there shouldn't have been a flag, and the game should have been over at that point, but I am quite biased!  That game went to the 49ers in OT with a score of 27-24.

There is no doubt this week with our Football Pool winners!  Congrats to the winners!!  How did you do?
The Snow Pick'em Pool Winners For Week 10:
1st: David DiLuzio – Dawgs Picks
2nd: Susan Nachtigall – Steeler Nation
3rd: Kim Rowley – Kim's Krushers
This Week's Prizes Generously Provided By:
And The Generous Grand Prizes From Our Merchant Sponsors:
Share