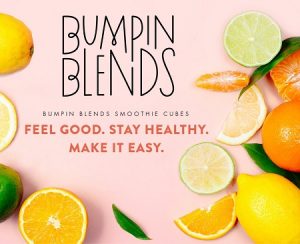 We are thrilled to introduce the Bumpin Blends Affiliate Program in Share-a-Sale!
Bumpin Blends' mission is to deliver personalized smoothies designed for your body and your lifestyle. All of our smoothies are made with real, fresh, organic ingredients – no questionable powders or "dehydrated vegetable blends" here, because, well, gross.
Our smoothie cubes were developed to help support the many symptoms women go through, from headaches and bloating to anxiety and trouble sleeping, with flavors for everything in between.
Why Buy From Bumpin Blends?
Smoothies made from organic, whole-food ingredients
Bi-Weekly or Monthly Subscriptions delivered straight to your door
27 mess-free, perfectly portioned, always delicious smoothie flavors tailored to your specific symptom
Packaging is entirely eco-friendly, 100% recyclable and our coolers are compostable and dissolve in water.
24/7 Nutritionist available via text
Bumpin Blends Affiliate Program Benefits and Features:
Commission Rate: 8%
30-Day Cookie Duration
Average Order Value: $134
Join the Bumpin Blends Affiliate Program in Share-a-Sale today!