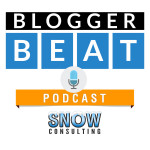 Blogger Beat is an informal chat with bloggers to talk about their origins in blogging and what keeps them going day to day.  Our very own Trisha Lyn Fawver hosts this podcast and chats with some of the most prolific bloggers in the blogosphere!
Thanks for listing to our past episodes!  You can listen here or Subscribe in iTunes!  Our objective is just to chat with bloggers and learn more about them: their lives, their motivations, and their businesses.  Learn more about our guest below!
[powerpress]
Episode 8: Kimberly Brown
Our guest is Kimberly Brown.  Kimberly blogs about fitness, wellness, and her fashionable lifestyle at Manifest Yourself.  We talked about Kimberly's background in business and counseling, her desire to to form a community, and her commitment to health by training for a body building competition!  She posts mantras to help her readers and takes pride in sharing her passions.
Please Follow Kimberly at: