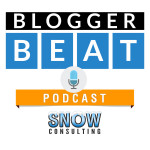 Blogger Beat is an informal chat with bloggers to talk about their origins in blogging and what keeps them going day to day.  Our very own Trisha Lyn Fawver hosts this podcast and chats with some of the most prolific bloggers in the blogosphere!
Thanks for listing to our past episodes!  You can listen here or Subscribe in iTunes!  Our objective is just to chat with bloggers and learn more about them: their lives, their motivations, and their businesses.  Learn more about our guest below!
[powerpress]
Episode 6: Williesha Morris
Our guest is Williesha Morris.  Williesha blogs about her business endeavors at My Freelance Life and geeky pedigree at Nerdy Thirty-Something Life.  We chat about jugging two blogs, how to maintain motivation when blogging, geekery, and her use of Quora to bolster her freelance work.
Please Follow Williesha at: