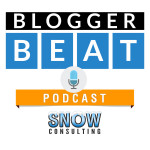 Blogger Beat is an informal chat with bloggers to talk about their origins in blogging and what keeps them going day to day.  Our very own Trisha Lyn Fawver hosts this podcast and chats with some of the most prolific bloggers in the blogosphere!
Thanks for listing to our past episodes!  You can listen here or Subscribe in iTunes!  Our objective is just to chat with bloggers and learn more about them: their lives, their motivations, and their businesses.  Learn more about our guest below!
[powerpress]
Episode4: Ken Weiss
Our guest is Ken Weiss.  Ken blogs about men's health &  fitness issues at Men's Health Cures and documents being a stay-at-home dad who cooks most of the time at the-cookingpot.com.  Unfortunately our recording was cut off toward the end, but we were nearly done chatting anyway!
Please Follow Ken at: