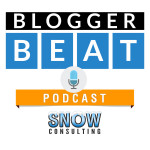 Blogger Beat is an informal chat with bloggers to talk about their origins in blogging and what keeps them going day to day.  Our very own Trisha Lyn Fawver hosts this podcast and chats with some of the most prolific bloggers in the blogosphere!
This is our inaugural episode, and we're very excited to be starting this series!  Our objective is just to chat with bloggers and learn more about them: their lives, their motivations, and their businesses.  Learn more about our guest below!
[powerpress]
Episode 1: Marybeth Hamilton
Our guest is Marybeth Hamilton.  She is the main writer and founder of Baby Savers, a site dedicated to saving parents money on everyday necessities and occasional splurges.  Marybeth has been blogging for 5 years, fueled by her passion to really help people save money to live a better life with their families.  I ask Marybeth some questions and we chat about her and her team's crazy pace of 15 blog posts per day!  It was a very pleasant chat, so we hope you enjoy.
Please Follow Marybeth at: