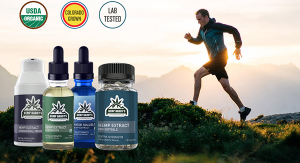 Today we are introducing
Hemp Daddy's Therapeutics,
an affiliate program in ShareASale. They understand that marketing is never a "one-size-fits-all", so they are open to making sure affiliates have what they need to succeed.
Meet Caleb, founder of
HempDaddys.com.
He's an outdoor enthusiast, runner, and ultra-marathoner. His struggle with injuries and the resulting sleepless nights led him to try CBD.
As a result, he set out to share the benefits so everyone could experience more trails in the fabulous outdoors.
Hemp Daddy's Therapeutics is located in Texas, and they partnered with a family owned farm in Longmont, Colorado. Their goal was to obtain their inventory from a single source for quality and consistency.
All products are third party lab tested and full-spectrum. If you're new to CBD, Caleb is happy to have you reach out and ask questions. Products include tincture oils, pain cream, softgels, and more.
See the details and join the Hemp Daddy's Therapeutics Affiliate program in ShareASale  today.