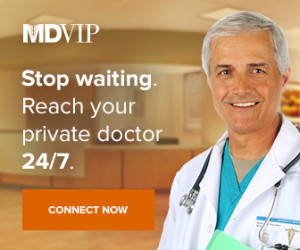 MDVIP is a great fit for health related sites
Earn $8 per qualified lead helping people find the personalized care they deserve.
The MDVIP model was created with the vision of transforming primary care — for both young and old — by embracing a proactive approach to health and wellness. Patients pay an annual membership fee for the extensive MDVIP Wellness Program.
The MDVIP personalized healthcare model was profiled in the first-ever study of hospital utilization, as published in an article published in the peer-reviewed The American Journal of Managed Care (December 2012). The lower hospitalization and re-admissions saved an average $2,551 per member. So, not only do members get better care, but as new healthcare laws mean higher costs to some patients, MDVIP actually saves members money.
Live healthy with a private doctor focused on you!
MDVIP practices are smaller; the patient comes first. Affiliated doctors see patients as people — not numbers or charts —and tailor a wellness plan specifically for each patient's unique needs, goals and aspirations.  It's healthcare the way it was meant to be – personalized, responsive, convenient and completely focused on keeping people healthy.
MDVIP is bringing more life to more lives by combining the high-tech tools of today and the high-touch practices of the past to help make patients and doctors happier and healthier.
About the MDVIP Affiliate Program
Earn $8 per qualified lead
Performance incentives and bonuses offered monthly
30 return days
Active Program Management by Snow Consulting
PPC POLICY
You are not allowed to bid on any trademark keywords such as, but not limited to, mdvip.com, mdvip, md vip, or www.mdvip.com. Any variations or misspellings are also prohibited. You are not allowed to direct link. You are not allowed to use the MDVIP.com display URL. You must add MDVIP as a negative search term in any paid search campaigns.
JOIN THE MDVIP AFFILIATE PROGRAM NOW AT CJ AFFILIATE
If you have already joined the CJ Affiliate network, simply log in and add MDVIP to your existing account.
If you are not in the CJ Affiliate network, you can sign up through the MDVIP application.
Contact Affiliate Manager: Ginette Degner
Share