Announcing The Closet Laboratory Affiliate Program at ShareASale!
We are so pleased to announce that Snow-Consulting is now managing The Closet Laboratory Affiliate program in SAS.
The Closet Laboratory's stylists love to experiment!  They are constantly researching so they can offer the latest fashion trend pieces at affordable pricing. With a focus on Sweet, Elegant Fashions, visitors to Theclosetlaboratory.com will find the perfect choice of outfit for daytime or evening.  The Closet Laboratory offers next to exclusive looks, as they bring in a small amount of each style – making it as close to exclusive as you can get. Finish off the ultimate look with The Closet Laboratory's line of beauty products and accessories that mix perfectly to create an ensemble for any occasion.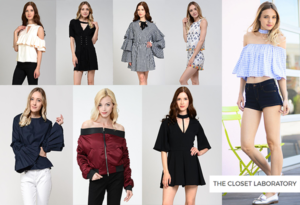 At The Closet Laboratory customer satisfaction is top priority, and they are always ready to listen to what they have to say! The end result of their experiments should be a great shopping experience while finding a fabulous look.
There has never been a better time to add The Closet Laboratory to your site.  If you would like more details about the affiliate program, head over here.
Teena and I will be managing the The Closet Laboratory affiliate program and we are here to help you succeed.  Please reach out to us with any questions you may have.  You can email us at: theclosetlab@snow-consulting.com